The beautiful gardens make a natural setting for photos and offer a variety of areas to accommodate intimate gatherings. And if you're looking for something unique, the venue boasts a beautifully restored estate and curated art gallery. Thus, whatever artwork is on display at the mansion and the grounds contributes a unique aesthetic to special events. The Muckenthaler has numerous enclaves for receptions of all types. Al fresco options include: the Center Circle Patio with its twinkling lights and original 100+ year old outdoor fireplace, the Adella and Northwest Lawns for larger parties, and the charming Palm Court for daytime events. Inside, the Art Gallery is an array of archways, skylights and gallery pin spots. There is space for up to 2,000 guests at the Muckenthaler.
Perfect for a ceremony, it's made picturesque with large palms, manicured hedges, rose gardens, and other flora leading directly to an ornate wrought iron gazebo.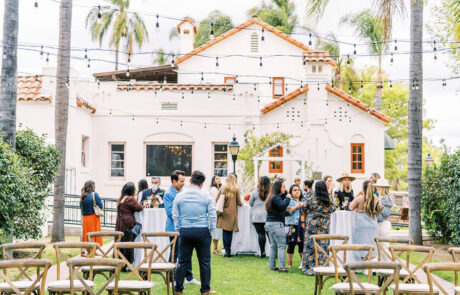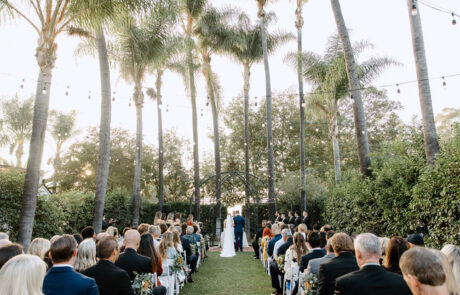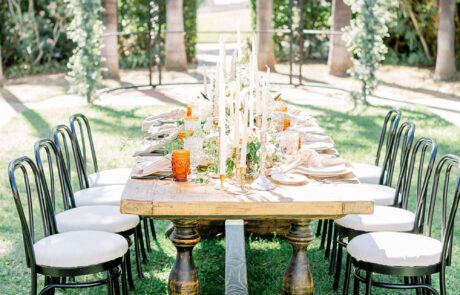 Capacities: Reception/Cocktail: 150, Seated Dinner: 75, Theater: 200
Suits larger celebrations with more guests. Surrounded by manicured hedges, gardens, and palm trees, this lawn hosts ceremonies, receptions, dinners, and special events alike. It's the perfect location for dining under the stars and rows of bistro lights or tenting for a more intimate setting.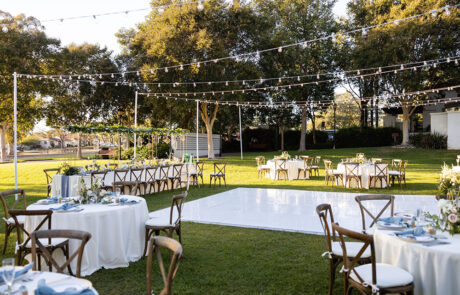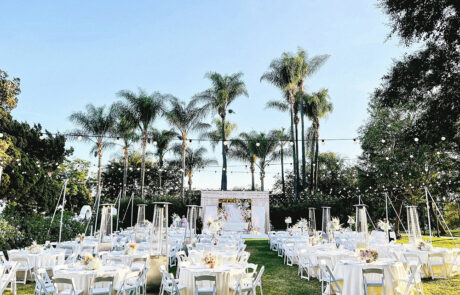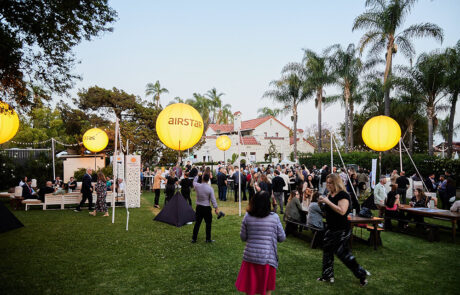 Capacities: Reception/Cocktail: 400, Seated Dinner: 350, Theater: 400+
The largest of the outdoor spaces, this sprawling lawn is home to rolling hills, huge eucalyptus trees, and the curated Sunset Garden lined with pathways of colorful, drought resistant grass varieties.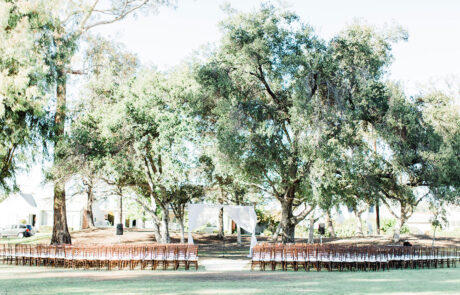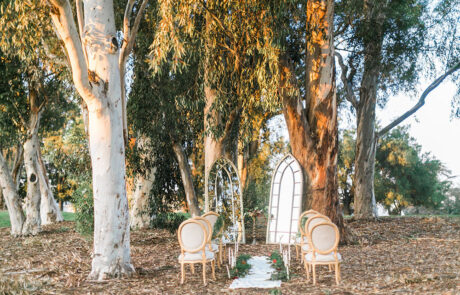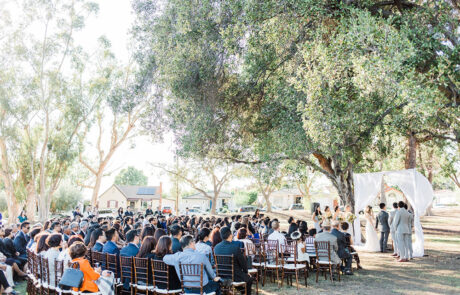 Capacities: Seated Dinner: 400+, Theater: 400+
A charming outdoor courtyard patio space lit by strings of twinkling bistro lights. It is ideal for cocktail hours or intimate receptions.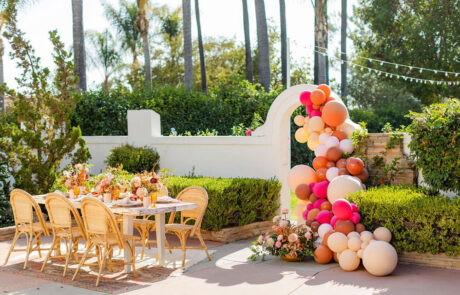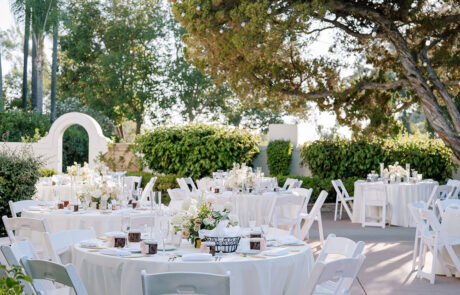 Capacities: Reception/Cocktail: 200, Seated Dinner: 100, Theater: 150+
Mansion & Main Art Gallery
The Muckenthaler's entrance is grand, and ideal for indoor festivities where guests enjoy mingling in the wooden-floored mansion, with its ornate tiled fireplace, and beautiful skylights. Meetings, dinner, and dancing often unfold in the main gallery, where a baby grand piano is on hand for musical entertainment. Of particular note is the octagonal solarium, warmed by light flowing in through expansive windows. In the estate's foyer, a wrought-iron spiral staircase imported from Italy and stained glass windows makes a perfect photographic centerpiece. The mansion also has two private dressing rooms featuring its own private entrance, for couples to get ready, green room lounges, or VIP areas for musical guests and filming needs.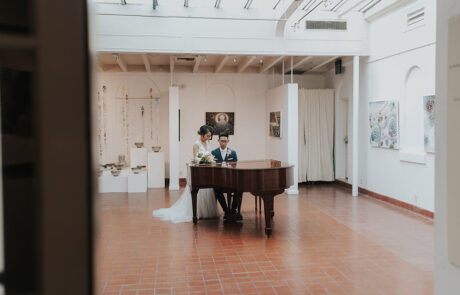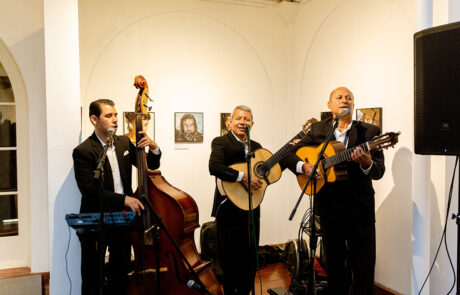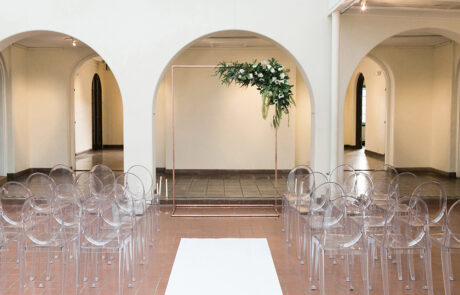 Capacities: Reception/Cocktail: 200, Seated Dinner: 128, Theater: 200
For concerts, performances, ceremonies, and conferences, the outdoor amphitheater is an ideal location. With built-in AV, sound, and seating, guests will be delighted in the al fresco setting.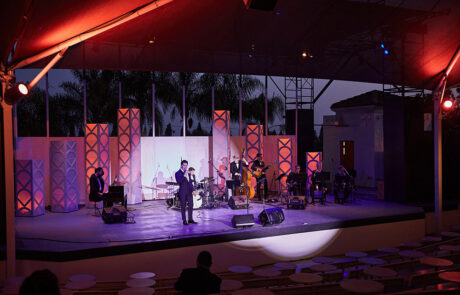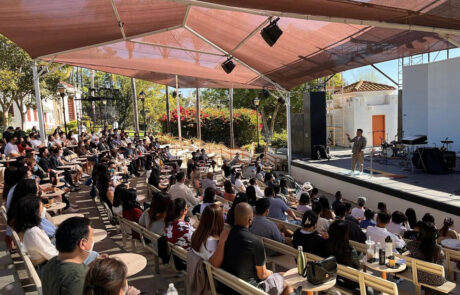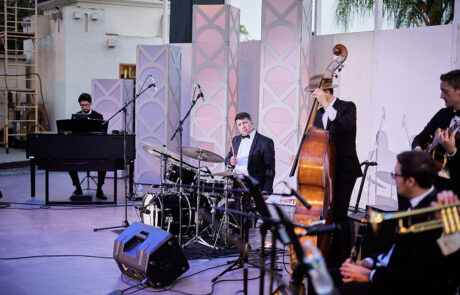 Other Picturesque Locations